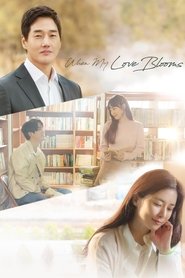 When My Love Blooms (2020)
Seasons and episodes
Synopsis
Han Jae Hyun is an entrepreneur who is famous in the financial world. He once was a young man who dedicated his life to student movement when he was a university student, but now he is a middle-aged man who is materialistic and has a good head for finance. Some think of him as a man who has become a successful entrepreneur only because of his wife, and his father-in-law regards him as a devoted dog. After his four years in prison, he is confident that he can make everything into his, but slowly, his strong will begins to crack after he meets his old love, Ji Su, again. Yoon Ji Su is a mother who does the best she can for her smart and kind son. She has a beautiful face, but there's tenacity on her face too. She is always busy to make a living but she never complains about it. One day, she gets to meet the man who she couldn't forget even after 26 years. It's Jae Hyun, her bygone love.
Original title
화양연화 – 삶이 꽃이 되는 순간
TMDb Rating 7.5 2 votes
First air date
Apr. 25, 2020
Last air date
May. 03, 2020
IDLIX adalah situs penyedia layanan streaming serial tv terbaik, situs IDLIX menyediakan berbagai serial tv dari layanan populer seperti
Netflix
,
Disney+
,
HBO
,
Apple TV+
,
Amazon Prime Video
dan beragam penyedia layanan populer lainnya yang kemudian kami satukan kedalam situs IDLIX untuk para pecinta serial tv barat, drama korea, anime, dan lainnya dalam kualitas yang jernih, HD, 720p, 1080p dan tentunya dalam subtitle berbahasa Indonesia agar mudah dipahami dan ditonton.
Bagi teman-teman sekalian yang nyaman dan suka untuk menonton disitus streaming film dan serial tv IDLIX, jangan lupa untuk membagikan keseruan dan kenyamanan dalam menonton serial tv
When My Love Blooms (2020)
ke teman-teman anda, keluarga anda, sahabat anda maupun rekan kerja anda, terima kasih dan selamat menikmati serial tv yang anda tonton sekarang :).