Synopsis
There is a popular saying: "you can never be too careful." It is very important to prepare for every situation you may face, even if it seems like an unnecessary waste of time. Also, in games like RPGs, it is good to exceed the level of your enemies to achieve total victory. These words describe Seiya Ryuuguuin a little too perfectly. After being summoned by the goddess Ristarte to save the world of Gaeabrande from destruction, the hero prepares himself for his noble journey. While this might be normal, he spends a very long time training himself, despite having overpowered stats. He fights weak enemies using his strongest skills and buys excessive amounts of supplies and potions—all to stay safe. While his attitude may be a bit annoying, it might just be the saving grace of Gaeabrande, especially considering that it is a world where the forces of evil dominate each and every expectation.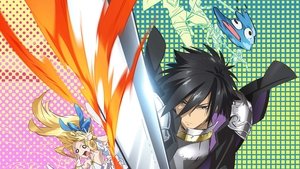 Original title
慎重勇者~この勇者が俺TUEEEくせに慎重すぎる~
TMDb Rating 7.2 12 votes
First air date
Oct. 02, 2019
Last air date
Dec. 27, 2019
Average Duration
24 minutes
IDLIX adalah situs penyedia layanan streaming serial tv terbaik, situs IDLIX menyediakan berbagai serial tv dari layanan populer seperti
Netflix
,
Disney+
,
HBO
,
Apple TV+
,
Amazon Prime Video
dan beragam penyedia layanan populer lainnya yang kemudian kami satukan kedalam situs IDLIX untuk para pecinta serial tv barat, drama korea, anime, dan lainnya dalam kualitas yang jernih, HD, 720p, 1080p dan tentunya dalam subtitle berbahasa Indonesia agar mudah dipahami dan ditonton.
Bagi teman-teman sekalian yang nyaman dan suka untuk menonton disitus streaming film dan serial tv IDLIX, jangan lupa untuk membagikan keseruan dan kenyamanan dalam menonton serial tv
Cautious Hero: The Hero Is Overpowered but Overly Cautious (2019)
ke teman-teman anda, keluarga anda, sahabat anda maupun rekan kerja anda, terima kasih dan selamat menikmati serial tv yang anda tonton sekarang :).